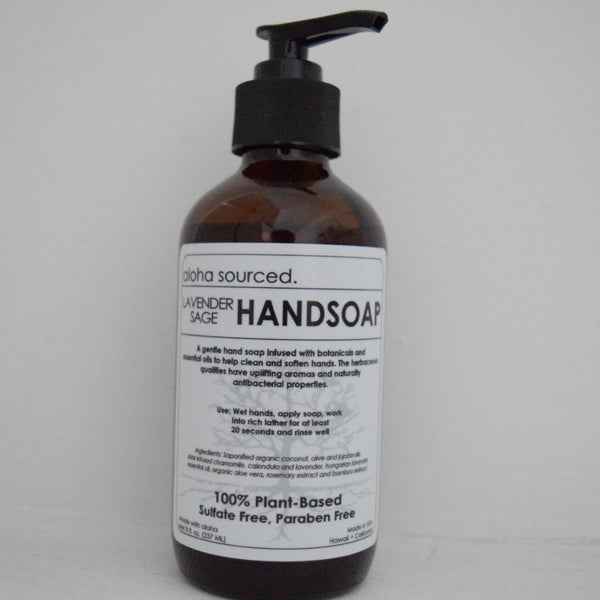 Lavender Sage Handsoap
A gentle handsoap infused with botanicals and essential oils to help clean and soften hands. The herbaceous qualities have uplifting aromas and naturally antibacterial properties.
Key Ingredients:
White Sage: a purifying essential oil that's naturally antimicrobial, antibacterial, and a disinfectant.
Lavender: help those with stress and nervous tension, headaches and migraines. It is a natural choice for healing many skin conditions such as acne, bruises, burns, dermititis, eczema, inflammation, psoriasis, sunburn and wounds to name a few. 
Botanicals: Chamomile, Lavender and Calendula is solar-infused in base oils to combat dry skin, soothe and help soften hands.
Bamboo powder: natural exfoliant and rich in silica. 
All Ingredients:
saponified organic coconut, olive, and jojoba oils, solar infused chamomile, calendula, and lavender, organic white sage essential oil, organic lavender essential oil, organic aloe vera, rosemary extract, bamboo powder. 
8 fl. oz
plant-based | no preservatives | paraben free | sulfate-free