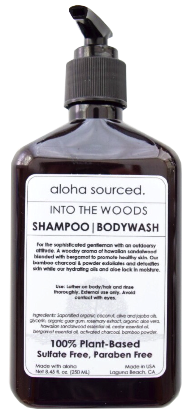 Into the Woods Men's Shampoo / Bodywash
For the sophisticated gentlemen with an outdoorsy attitude. A woodsy aroma of hawaiian sandalwood blended with bergamot to promote healthy skin. This essential oil combination is great for post-workouts at the gym. Our bamboo charcoal & powder exfoliate skin while our hydrating oils lock in moisture.
Key Ingredients:
Hawaiian Sandalwood: Known to enhance the mood, promote healthy and smooth skin, reduce the appearance of scars and blemishes.
Cedar wood: woodsy aroma; antiseptic,and anti-inflammatory properties.
Bergamot: subtly spicy, yet citrus scent. Believed to help alleviate symptoms and complications of bacterial infections and prevents and improves skin conditions from fungal infections.
Activated Charcoal: helps remove impurities and detoxifies your skin. The charcoal sticks to toxins on our skin and makes for a great cleanser. 
All Ingredients:
saponified organic coconut, olive, and jojoba oils, glycerin, organic guar gum, organic aloe vera, hawaiian sandalwood essential oil, cedar essential oil, bergamot essential oil, activated charcoal, rosemary extract, bamboo powder. 
Suitable for all skin types
8.45 fl. oz  
plant-based | no preservatives | paraben free | sulfate-free