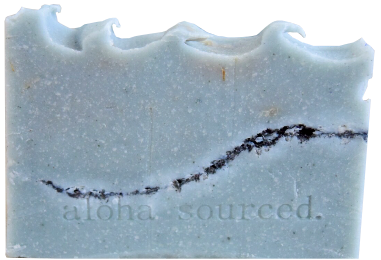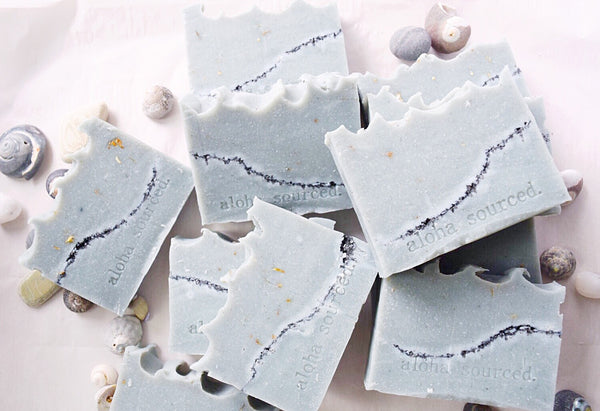 Moana Bamboo Soap
Moana Bamboo soap bar was created because of our love for the ocean.  Inspired by the (not yet) island, Lo'ihi seamount, an active submarine volcano found south of the Big Island of Hawaii. As new life and beginnings are created for Lo'ihi, so was the same for the Paleozoic period-Cambrian clay 600 million years ago. The blue clay and hawaiian salt in the Moana bar will nourish your skin by drawing out impurities, increase blood circulation, and remove excess oils. 
Key Ingredients:
Cambrian blue clay: rare clay that comes from paleozoic period with benefits that help draw impurities and remove excess oils from acne prone skin. One of the oldest ingredients used in cosmetic treatment. Nourishes skin, remove blemishes, and increases blood circulation.
Blue Chamomile: soothing apple-like aroma. Anti inflammatory properties to assist with rashes
Spruceleaf: Earthy, sweet scent with calming effects. Known to soothe skin and relieve breakouts
Grapefruit essential oil: a refreshing aroma, grapefruit essential oil keeps the skin clean. It is particularly good for treating oily skin and acne. Grapefruit is also an excellent lymphatic stimulant.
Tangerine: Bright citrus aroma with properties to help maintain oil and moisture balance in the skin.
HoWood: Sweet, fresh, woody with floral notes similar to Rosewood Oil, but more sustainably harvested. Known as the "peaceful oil". It is calming and a good choice to relax and unwind.
Frankincense: Known to tone and lift skin to reduce appearance of wrinkles, stretch marks, and fat cracks. Said to help with scars, and fade acne.
Hawaiian sea salt activated charcoal : rich in silica, added for exfoliation and skin toning properties. 
Maile: a delicate and leafy vine given to loved ones in Hawaii as a lei on special occasions.
Our soap is made with bamboo powder to give you a natural, exfoliating bar that smooths away rough patches while our hydrating ingredients won't strip your skin of moisture.
Our products do not contain Sodium Lauryl Sulfate (SLS) and are paraben-free. Only natural ingredients using coconut oil, olive oil, palm oil (sustainably sourced), canola oil (non-GMO), and avocado oil.
---